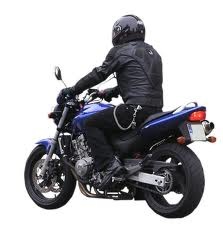 Motorists are encouraged to always be aware of motorcycles, especially at intersections, when performing lane changes or passing other vehicles.

 Due to their smaller size, motorcycles may be easily overlooked in the traffic flow, especially if traffic is heavy or the driver is in a hurry.

 Motorists need to be especially alert at intersections and when making a left turn to insure that a motorcycle is not coming straight through.

 Motorists need to share the road and remember that a motorcycle is entitled to a full lane.

 Keeping a safe distance from the motorcycle allows the motorcycle rider the opportunity to maneuver the motorcycle to avoid road hazards or other traffic conditions.

 Motorcyclists should always operate their motorcycle in a defensive manner and within the rules of the road, being prepared to take evasive action if necessary.

 Motorcyclists should be attired with the proper protective riding apparel including a DOT rated motorcycle safety helmet.

 Motorcyclists must be properly licensed with a motorcycle endorsement on their drivers license.

 Motorcyclists are encouraged to participate in Motorcycle Safety Foundation training offered through the Michigan Department of State.

 Motorcyclists must keep in mind that weather conditions, road surfaces and fatigue pose greater problems to them than to other motorists.

 Maintain your motorcycle in good operating condition using safety and maintenance checks found in the owners manual.

 Avoid the use of alcohol before and during the operation of the motorcycle.
Get in the habit of looking for motorcycles as they drive throughout the entire riding season!
Together share the road safely!

"Ride Safe to Ride Again" Campaign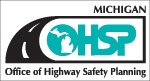 Motorcyclists are urged to wear high-visibility gear in new campaign
Motorcyclists are being urged to ride defensively and make themselves more easily seen by wearing high-visibility riding gear through the federally funded "Ride Safe to Ride Again" campaign.  This is the first time the effort has urged the use of gear that enhances both daytime and nighttime visibility of motorcyclists to the motoring public and includes the use of colors such as fluorescent red, orange, yellow or green and retroreflective trim.
The "Ride Safe to Ride Again" campaign, sponsored by the Michigan Office of Highway Safety Planning (OHSP), recognizes that the best person to look out for a motorcycle rider's safety is the rider.  In previous years, the campaign has concentrated on key skills riders need to know to avoid being injured or killed in a crash.
"Riders who wear high-visibility gear stand a better chance of being seen on the roadway," said Michael L. Prince, OHSP Director.  "No one intentionally pulls out in front of a motorcycle.  They do it because they don't see the rider."
In Michigan, more than 10 percent of traffic fatalities annually involve motorcycles.  The average age of motorcyclists killed is 43 and more than 90 percent of riders killed are male.  In 2012, 129 motorcyclists died in traffic crashes, an increase from 109 in 2011.
In the last decade, motorcycle fatalities have increased largely because of a surge in motorcycle ownership.  Many riders are "Baby Boomers" who are newly entering or re-entering riding.  In recent years, OHSP has helped support state-sponsored training programs to increase opportunities for riders to get basic, remedial and advanced training.
The "Ride Safe to Ride Again" campaign features federally funded cable, television, radio and internet ads in Metro Detroit and West Michigan.  From 2007 to 2011, almost half of all fatal and serious injury motorcycle crashes occurred in Wayne, Oakland, Macomb, Kent, Genesee, Washtenaw, Ottawa and Muskegon counties.
The "Ride Safe to Ride Again" campaign also includes information about rider training and safety tips at http://www.ridesafetorideagain.com.  The television ad can be viewed at http://www.youtube.com/ohsp.
Information provided by:
Michigan Office of Highway Safety Planning (OHSP)