a News Release from the Michigan Office of Highway Safety Planning
Michigan motorists urged to "get home safe"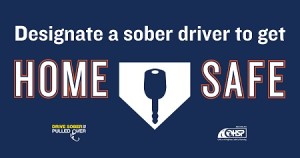 DRUNK DRIVING ENFORCEMENT A SUMMER-LONG FOCUS
With Comerica Park as the backdrop, traffic safety and law enforcement officials today remind drivers that you won't need to hit a home run to be an all-star, all you need is a designated driver.
It's a message they hope will resonate with motorists as the Fourth of July holiday approaches.  Traffic deaths, especially alcohol-involved traffic deaths, increase during the summer months.  That's why all summer long, law enforcement officers from police departments, sheriff's offices and the Michigan State Police will step up drunk driving enforcement across the state as part of the Drive Sober or Get Pulled Over campaign.
"A designated hitter might bring you home, but a sober designated driver can get you home safely after drinking, said Michael L. Prince, director of the Michigan Office of Highway Safety Planning.  "Law enforcement officers across the state will be on the lookout for drunk drivers this summer to help ensure everyone has the opportunity to enjoy the festivities safely."
In 2015, Michigan alcohol-involved traffic deaths were up 28 percent from 2014, from 107 to 138.  Drug involved fatal crashes were up 19 percent, from 150 to 179 in 2015.
Officers, deputies and troopers who work the federally-funded drunk driving patrols are all specially trained in Standard Field Sobriety Testing (SFST).  SFST-trained officers complete 24 hours of lecture and hands-on instruction in comprehensive impaired driver detection.
During last year's Fourth of July holiday, 292 motorists were arrested for drunk driving.  There were 12 traffic deaths over that holiday period; more than 60 percent of those deaths involved alcohol.
In Michigan, it is illegal to drive with a blood alcohol content (BAC) of .08 or higher.  Under the state's high BAC law, motorists face enhanced penalties if a first-time arrest is for a .17 BAC or higher.
This project is part of Michigan's Strategic Highway Safety Plan signed by Gov. Rick Snyder in 2013.
Contact:  Kristin Allen 517-284-3045, allenk14@michigan.gov  Michigan Office of Highway Safety Planning, PO Box 30634, Lansing, MI 48909