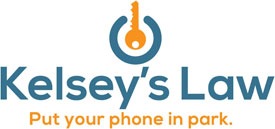 Mobile Phone Use Banned For Young Drivers
Young drivers with a Graduated Driver License (GDL) Level 1 or Level 2 take note! (between 14 years, 9 months old and 17 years old)
Beginning March 28, 2013, if you use a mobile phone while driving, you may be ticketed by a law enforcement officer.
The new law, called "Kelsey's Law" prohibits initiating a call, answering a call, or listening to or engaging in verbal communication through a cell phone.
Violations of Kelsey's Law will be a civil infraction with fines up to $100 as well as possible additional costs up to $100.  There are no points associated with this civil infraction and it does not impact status in the GDL program.
This does not apply if children are using a voice-operated system integrated into the vehicle or if they are using a cell phone to:
Report a traffic accident, medical emergency or serious road hazard
Report a situation in which they believe their personal safety is in jeopardy
Report a prevent a crime or potential crime against themselves or another person
Driving is a privilege that requires skill, practice, judgment and responsibility.  As a young driver, your attention needs to be focused on the road, not on the phone.  We encourage young drivers to keep themselves, passengers and other motorists safe.  They should obey the law, and don't drive and talk on the phone.
"Kelsey's Law" is named in honor of Kelsey Raffaele, 17, of Sault Ste. Marie, who died in a mobile phone-related automobile crash in 2010.
The Michigan Legislature approved Kelsey's Law at the end of the 2012 legislative session.  The legislation was sponsored by Sen. Howard Walker (R-Traverse City) and supported through the efforts of Kelsey's mother, Bonnie.